About Us
Our state-of-the-art production facility operates under GMP regulations

Çancılar Raisin Processing Plant shall start its operations in June 2012 on a total area of 12.000 sqm including an indoor area of 6.000 sqm which started to be invested in the town of Ahmetli of the province of Manisa in 2009.
In consideration of the developments in the industry, there is a land of 20.000 sqm as owned by Çancılar Raisin Processing Plant which is ready for construction in the vicinity of the plant.

Çancılar Raisin Processing Plant has been calibrating, de-stemming, washing, removing all foreign matters (stones, metals, etc.) from the seedless raisins which it grows and the grapes purchased from the farmers with whom it has been dealing for many years in the town of Ahmetli where the most productive and best grapes are grown and then pack and made them ready for consumption.

Çancılar Raisin Processing Plant started its operations in the textile industry in 1989 and maintains its operations in the durable consumables trade and gas station business respectively. Having invested the profits which it earned in all these sectors in vineyards as from 1989, the Çancılar Group harvests 500 tons of seedless raisins per year in its existing vineyards extending over 1.000 decares. Due to its build-up of many years and regional recognition, it decided to establish its raisin processing plant in 2009 and has made its raisin processing plant ready by using the state-of-the-art machines which conform to the world standards for the past two years.

Having closely followed the technological developments in the industry, we added a laser raisin sorting machine and a metal detector to our line during the past two years. Included in the investments which are still under way, another laser sorting machine and an X-ray machine shall start to be used upon the completion of their installation.

Aiming at carrying out a production which is in conformity with the Food legislation in our country and all over the world in hygienic conditions, Çancılar Raisin Processing Plant is still making great efforts on ISO 22000 and BRC quality systems.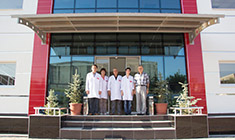 OUR CORE VALUES
Integrity
We will be ethical and trustworthy. We strive to be fair, honest, professional and open with our employees, customers and vendors, and endeavor to earn their respect.
People
We will encourage our employees to become leaders professionally and personally. We are innovators and will set standards in our industry. We will be leaders, not to be led, and Çancılar will be a place where everyone can grow from good to great.
Quality
We expect to consistently provide a high quality product at a fair price. We are committed to the highest standards with our customers, vendors, products and services.
Growth and Learning
Çancılar will be a place for opportunity and growth. We will create a safe and productive environment where everyone can express their vision and fully utilize their talents. We trust our employees to clearly and efficiently communicate their ideas and goals.