Quality
Quality and food safety is our top priority

As Çancılar Food, we are committed to providing the highest quality products to our customers, we highly focused on quality. Çancılar has all the necessary stringent Quality Assurance checks and procedures in place including HACCP and BRC.
In our factory latest technology production systems monitored by experienced food engineers will enable us to exceed your expectations. We are using latest technology for production our products and high technology modern laborotories We are producing high quality products and services derived from HACCP standarts and ISO 9001: 2000 Quality Management System. In addition to these for ISO 22000 adaptation work is going on.

Çancılar Food is committed to providing superior quality food ingredients that is safe and meets the expectations of international standards and regulations. We are dedicated to achieving customer satisfaction through continuous improvement in all that producing and supply. Çancılar Food is conscious because of increasing in productivity will be provided by continuous training, perfection and happiness of employees as well.
OUR QUALITY POLICY
to serve the best products to the customers without ruining the triangle of consistently safe good quality products, on time shipments and responsive customer service on quality monitoring

to improve our firm's competition power by adopting to fast developing technology, to improve one more step our performance and quality consistently

to improve our employee's awareness and skills by continous training activities

to meet the requirements of all environmental, occupational safety and health regulations issued.
FOOD SAFETY
We manufacture as per legal regulations, food safety conditions, customers' requirements and market necessities. The mainly goal of our food safety policy is to determine, evaluate and control the probable hazards concerning our production.

A complete food safety program, including GOOD MANUFACTURING PRACTICES and HACCP, assures that the raisins are processed in the most sanitary environment possible, kept free from contamination. By checking product lot codes during processing the traceability of the raisins is maintained above and beyond customer expectations.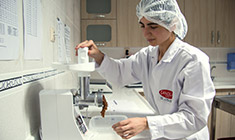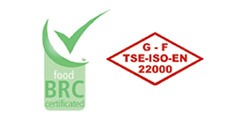 Our policy will be improve constantly customer satisfaction and to create a perfect company. Constant control over incoming raw materials and finish product is carried out by the highly qualified and skilled staff. Our QC department monitor every stage from the very first step in our process to final packaging. Physical and chemical analysis are conducted in our laboratories by the QC department. We take absolutely no shortcuts on analysis and a quality control certificate is accompanied with each shipment.